This past weekend, I traveled down to San Diego for "Jantastic" presented by the San Diego Derby Dolls. It was there to direct the webcast over the two-day tournament. The last time I was there was in June for the "Battle on the Bank" tournament.

It was so great to work with a well-run and professional operation like the Derby Dolls and with such great people like Isabelle Ringer and Amber Alert! It was also nice to see a lot of familiar faces from roller derby community from players to announcers.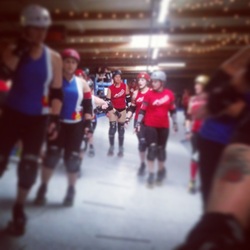 I'd like to thank my camera ops, announcers, and the SDDD staff for putting on a great production. I'd also like to thank all the skaters from all around the country that displayed great talent and incredible skill throughout the entire weekend. Also, congratulations to the "My Little Ponies" team that claimed 1st place.

I hope the games will be available online soon, until then, enjoy the championship game that I directed from the BOTB tournament in June of 2014. The bout is between the Los Angeles Derby Dolls Ri-ettes and the Arizona Derby Dames Hot Shots.