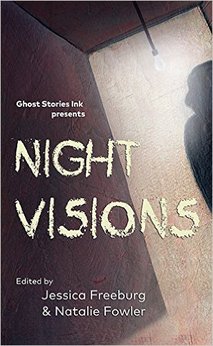 It's been a while since I've posted. It has honestly been a whirlwind since my last post about the AFF. Since then, I have been writing a lot, taking on some side projects and following up with some other exciting opportunities that have come my way.
Also, in the past few months since posting, the anthology my short story was published in was released by Ghost Stories Ink. It seems like just yesterday that the Ghost Stories Inc crew were out here in LA and now, a year later, the have their first anthology.

It's so cool to be a part of something like this and was honored to be asked by Jessica Freeburg to submit. The book features some really great stories by some talented writers including Jay Asher. It has one review so far on Amazon and that one is 5 stars! I promise it wasn't anyone's mom that wrote it. Sadly, I had to miss the release party in Saint Paul, MN back in November, but Jessica told me that the venue was packed and every copy on hand sold out. You can rustle up a copy in paperback or print HERE.
Another project that has been keeping me busy is building a website for a new soccer product called Toe Jam Wax, for a client through my commercial production company

Stemless Media

. It's been fun helping them launch this cool product to help soccer players on the field of play. You can see the site at

HERE

and buy some if you're a player of the sport.


I've also been doing some work over at GeekyPheebs.com with my partner on that project Ruth Tjornhom. So look for some news about that coming soon!

Toe Jam Wax Stills