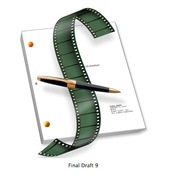 Last week, I got news that I made the quarterfinals for Final Draft's Big Break script contest. It was for my half-hour pilot "The Treehouse." I'm not sure when they announce the next rounds, but I'm excited to get this far in such a respected contest. I'll keep everyone updated to its progress!
Here is the logline for the pilot:

This comedy series follows a straight-laced art student and her colorful co-workers as they serve the often-outrageous clientele of a popular college town head shop.
Also, big-ups to my writing group member Olivia Briggs who's one hour pilot "Wrecking Balls" also achieved quarterfinal status. Lucky 13 is doing big things!

The link to Final Draft's 2015 compete quarterfinal list is HERE