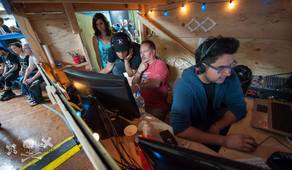 I spent last weekend (June 5-9) in classy San Diego to direct the webcast of 'Battle on the Bank VII' for the Los Angeles & San Diego Derby Dolls.
I had a fun time capturing the excitement of banked track roller derby and everything went off without a hitch (okay there were a couple, but had nothing to do with us. Promise.). The days were long and it really taxed my mind as I had to manage multiple cameras, a switcher, announcing talent and replay. I think I have a new threshold for mental toughness.

Overall, it feels good to play a part in capturing the early days in a sport that will only grow more and more popular as time passes. Those junior derby games were amazing. Plus, I got to meet a bunch of really cool people to add to my ever expanding roller derby network. To watch the archived bouts from 'Battle on the Bank VII' please visit the San Diego Derby Dolls YouTube channel HERE.