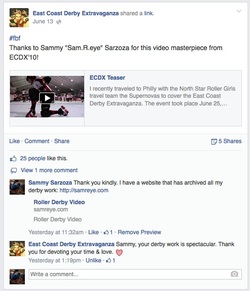 This week I was surprised to stumble upon my video from 2010 on the ECDX Facebook page. The posted it in the lead up to ECDX 2014 this weekend. It was a good feeling to find my work still highly regarded so many years later.
It brought up so many memories of when I was just beginning my journey in roller derby. I had traveled in June of 2010 with my good friends Wijadi and Ger across the country from Saint Paul, MN to Philly, PA to capture some national roller derby action for the first time.

I came back with a mess of footage, some new friends, and a bit of a broken heart. When I started to look through the footage, I plucked some of my favorite shots and put together a short video expecting nothing to ever come of it.

I posted it on my own personal Facebook page and it soon caused an earthquake in the sport of roller derby. No one had ever seen the sport shot and delivered the way I did it. I soon began getting emails and messages from all over the world thanking me for my work to which I replied "Thank you."

This video cemented my relationship with roller derby forever and I will never forget the kindness of the Philly Roller Girls for allowing me to show the derby world what I could do.

Sadly, due to current WFTDA rules, I am locked out of taking any video like this ever again at a WFTDA sanctioned event as their contract with Blaze Media prohibits independent video producers. Oh well...

To watch this video, visit HERE.