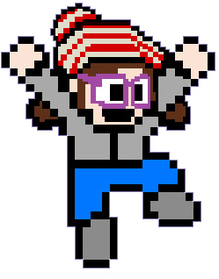 The New Year is here and I am looking forward to a productive year. Another year means more growth for my transmedia project: "Geeky Pheebs." Over the past few weeks, I have been updating the website
GeekyPheebs.com
. The new updates included making the short film "An Ideal Man" available to watch, launching "Phoebe's Playhouse," a weekly character blog, and getting ad affiliates placed to hopefully generate some income for the project. We have much more in store for the project over the course of the next few months, including some promotion at MARSCON 2015 in early March.
In the hopes of sharpening my screenwriting skills, I have also joined a pair of elite writing groups that both kick off this month. Many of the professional screenwriters I have heard speak over the past year, have all stated how vital writing groups are in achieving 'next level' status.
In addition to that, I've been invited to contribute articles for the Writers Guild Foundation's blog as well as my friend Sarah's new movie magazine (currently untitled). Both articles will be published in the next few weeks in their respective outlets. [Expect to see both pieces re-posted here.]
As if all that won't keep me busy enough, on the weekend of Jan 16-18, I'll head down to San Diego to direct the webcast for the 'Jantastic Tournament' hosted by the San Diego Derby Dolls. It will be a weekend of hard hitting and exciting roller derby action from some of the nation's top skaters. I have been looking forward to this event for quite some time.
Finally, because I wanted to kick 2015 in to high gear early, I embarked on a high-octane adventure this past weekend when I joined
GSI (Ghost Stories Inc.)
on a ghost hunt of 'The Oman House.' 'The Oman House' is located in the Benedict Canyon area of Los Angeles and is a mere 200ft from the site of the ghastly 1969 murders of Sharon Tate and her friends at the hands of the Manson Family. Since the construction of the house, the owner has reported paranormal activity and has invited many investigations. What did we find during our investigation? You'll just have to wait until I post my recap later next week.
Until then, a wish everyone a happy and prosperous 2015!